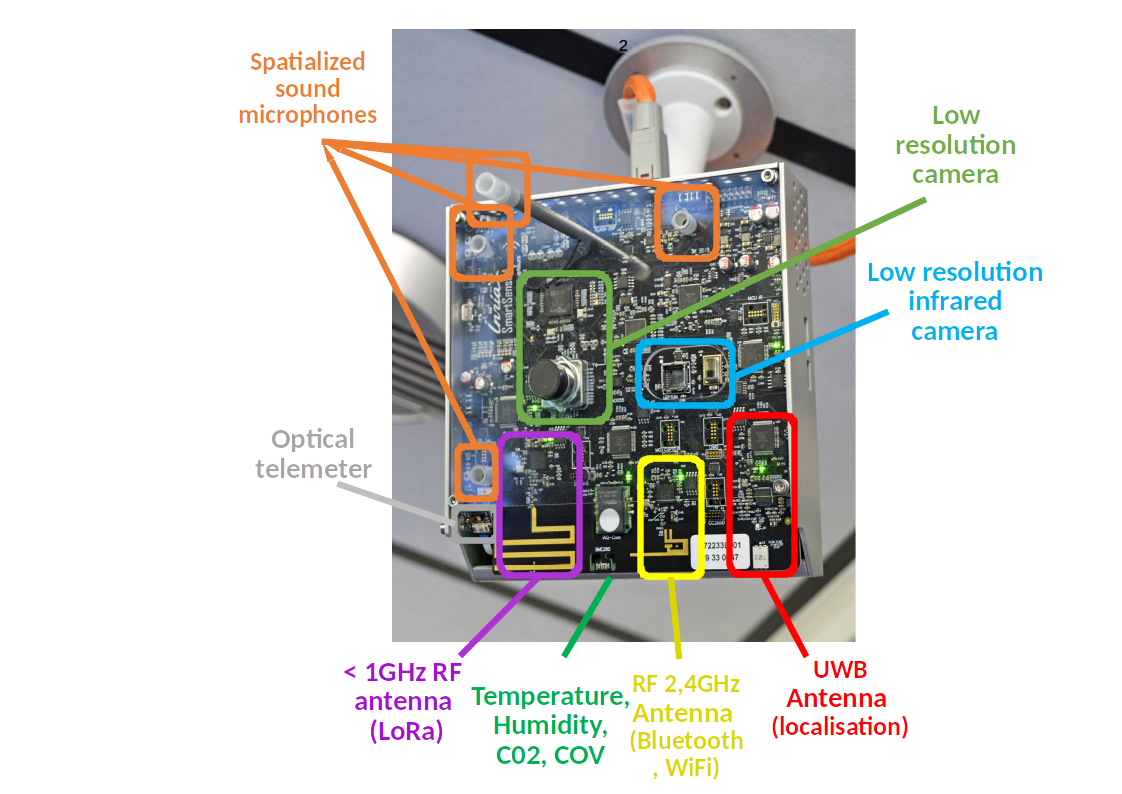 The SmartSense node was developped with our industrial partners Feichter Electronics and 3D Ouest. The node included 3 different parts:
A gateway
A sensor module
A power supply and interconnection board
The node is connected to the network by PoE+ (Power over Ethernet). The node is flexible. It is possible to add 2 additional modules outside of the node. Complementary module are connected by USB 2.0.
The gateway
The gateway interface the server and node's modules. It is an embedded linux board. Software solution has been developed by Athemium. Gateway receives messages from all the modules connected to the interconnection board. It treats message and sends them by MQTT protocol to the server.
Gateway includes 4 USB 2.0 ports. 2 are used by the primary module sensor. 2 others are left for complementary module. Gateway is 100Mbit/s capable even if network is 1Gbit/s capable.
The sensor module
Study and realization has been done by Feichter Electronics. Sensor module embeds 15 sensors. Here is a non limited list:
Video sensor (VGA and IR cameras)
Audio sensor (4 mics)
Radio sensor (SubGiga, 2.4GHz and UWB bands)
Air quality sensor (Temperature, humidity, CO2, VOC, pressure, …)
Luminosity sensor (UV, RGBW)
Positioning sensor (Inertial unit)
Distance sensor (Radar distance)
Energy monitoring (Voltage, current and power)
Power and interconnection board
This board fulfills 2 functions. First one is to supply the node. Modules are supply by USB, gateway by 5V supply. Second one is to interconnect gateway, sensors modules and network.
PoE+ standard allows supply 24 W. It is enough for the node and two additional modules.